The month of August marked Facebook Seattle's five-year anniversary. Our office started with just three people, and we recently topped 500 engineers, making this the largest engineering center outside of our headquarters in Menlo Park, California.
A key reason behind our growth is the office culture — Seattle is not a traditional satellite office. From the day we opened our doors in 2010, we've maintained small teams (typically five engineers each), which has kept the entrepreneurial spirit alive. While the teams are small, the office collectively makes significant contributions to major areas and products in Facebook — including infrastructure, ads, platform, Messenger, News Feed, search, videos, groups, and Oculus. Our goal is to create a culture where engineers are encouraged to innovate and create new technologies that advance and influence the industry.
While the rapid growth our office has experienced over the years is motivating, the real measure of success is the evolution of skill sets we've seen expand throughout the core of our talent. Our office now has 127 teams and covers many disciplines. We have systems engineers, product engineers, Android engineers, iOS engineers, production/SRE engineers, hardware engineers, product managers, product designers, technical program managers, data engineers, and data scientists.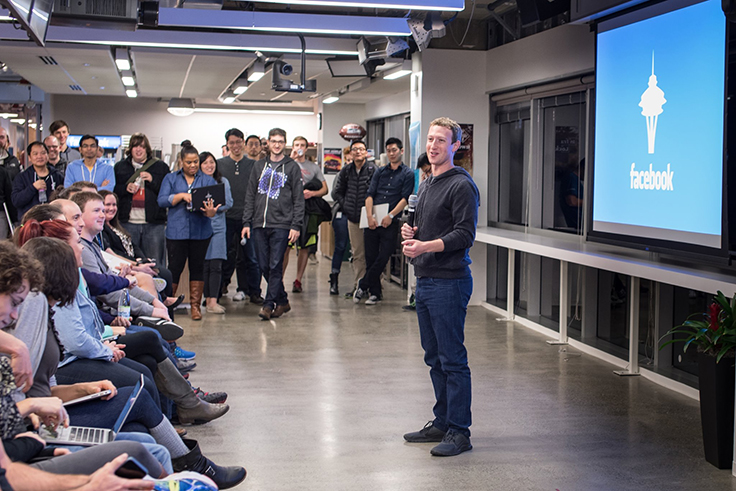 We work on a wide range of projects, including the Facebook Platform, cold storage system, and Hello app. Most recently, we added For Sale Groups, giving people a better way to connect for buying and selling. Additionally, we worked on Atlas, which extends people-based marketing beyond Facebook, so you can reach your audience no matter where they are. We were the team that worked on App Install ads, which has driven more than 1 billion installs from app ads across desktop and mobile through News Feed. Ever used the voice and video calling features in Facebook Messenger? Our team built those as well.
To help illustrate the impact each engineer in our office has on the evolution of Facebook, we'd like to reflect on three Seattle project milestones:
Video calling (2011). This was the first project that came out of the Seattle office, about nine months after it opened. At first, the video calling team consisted of one engineer — the same engineer who had the idea to build the product in the first place. The project required a variety of skill sets, ranging from back end and web front end to client OS experience. The resulting product introduced a way for people on Facebook to instantly call any friend or family member, anywhere in the world. Messenger also recently introduced video calling, enabling face-to-face conversations through the app for the 700 million people who use it.
Cold storage system (2014). Cold storage is the deep memory that's used to store and preserve photos and videos in a sustainable, efficient way. Four engineers initiated this project to make sure that people's #tbt photos from years ago would be just as accessible as the latest popular cat memes while using less storage space and power. The project launched in March 2013 and rolled into production January 2014. This is the fastest-growing storage service in Facebook to date, and it manages hundreds of petabytes of data.
For Sale Groups (2015). Facebook Groups provides a place for millions of communities, teams, families, and other groups of people to communicate, plan, and collaborate — including helping buyers and sellers connect with each other. For Sale Groups takes that connection a step further by facilitating commerce activity. The skill sets used for the successful creation of For Sale Groups included many layers, ranging from front-end programming to mobile (iOS, Android, and search).
We have also found time for a bit of fun and team-building work. We regularly host hackathons, customizing them to meet the needs of our team. Those have included a culture-focused hackathon at the Space Needle, diversity-focused hackathons for LGBTQ youth and students of color, and weeklong hackathon camps to create new products. The Faceversary balloon hack, for example, came out of a Facebook-hosted hackathon event; the tool automatically orders balloons for employees on their employment anniversary with the company. Everyone in the Seattle office appreciates this feature — when they show up to the office on their anniversary, their gift is waiting for them.
As we continue to grow, we will be moving into a new space early next year. Our new home at Dexter Station will be designed by Frank Gehry, and it will give us room to keep growing and working to create new connections — within our team, in the Seattle tech community, and around the world.