One of the best parts about being at a company that values open source is the chance to work with other companies to reshape the future of infrastructure software. Brett Simmers from the HHVM team wrote about his most recent experience with this, working with Wikipedia as they transitioned to HHVM. The results were great — page save time was down, as was CPU usage. You can see the former in the graph Brett produced below.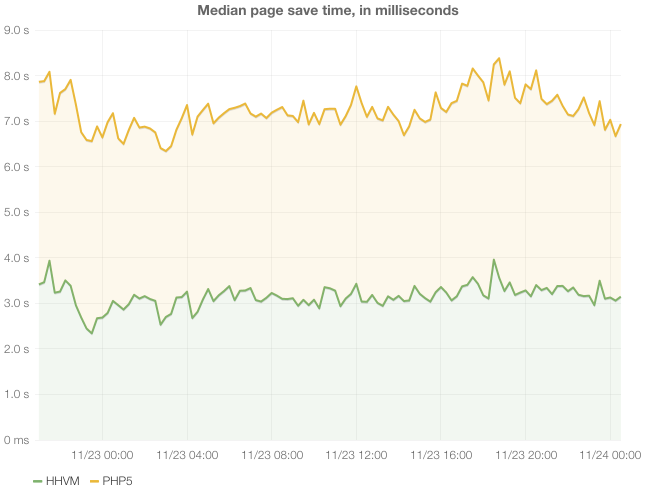 Brett writes:
"The…graph shows the effect HHVM had on the experience for Wikipedia's community of editors. While most page views on Wikipedia are served from a static cache without running any PHP, editing a page executes a lot of PHP and is one of the most expensive actions on the site. We were able to directly compare PHP 5.3 and HHVM during the transition, when some application servers were running PHP and some were running HHVM.
As you can see, the median page save time on the HHVM application servers was about 45% of PHP's. This means that every time someone previews or saves an edit, they get the result back about twice as fast. And 7 seconds was just the median save time – there are lots of larger pages that used to take tens of seconds to save, even causing timeout errors in some extreme cases."
Brett gives a full account of the work he, the HHVM team, and Wikipedia did on the HHVM blog. You can read Wikimedia's account of the transition as well.