High quality internet access helps people communicate, share knowledge, and strengthen their communities and economies — yet billions of people still lack baseline connectivity. To address this problem, we are building a diverse set of technologies, products, and partnerships designed to expand the boundaries of existing connectivity quality and performance, catalyze new market segments, and bring better access to the unconnected.
Facebook's connectivity efforts focus on accelerating the expansion and improvement of connectivity around the world. This includes our work on developing technologies like Terragraph, OpenCellular, and High Altitude Platform Systems, in addition to our collaboration with operators on efforts like rural access, shared backhaul, the Telecom Infra Project, and internet.org programs like Free Basics.
Together with our partners, we have helped to connect more than 100 million people via our efforts over the last five years, based on our best estimates. Along the way, we've listened, learned, and evolved our approach, and adopted a more comprehensive, partner-focused model. In our work with operators, internet service providers, and device makers we aim to find new, more efficient ways to deploy and maintain mobile network infrastructure. Recently, one of the ways we've been doing this is through the use of connectivity analytics with our Advanced Network Planning and Actionable Insights tools.
People connect to Facebook from many parts of the world. By analyzing information from sources like Facebook, population density maps, LiDAR, or satellite imagery, we are able to help the ecosystem better understand the state of connectivity.
To power future urban networks leveraging millimeter wave, operators will need to leverage existing city infrastructure such as light poles. Advanced Network Planning identifies light poles with LiDAR data using computer vision. In this example, we help network planners identify relevant objects to help build their networks. For example, green identifies a straight line that is likely a light pole and red identifiies what could be the arm of a light pole.

Protecting our community is important to us, and that's why we developed these tools in accord with the principles of privacy by design. The information we share is aggregated and de-identified, meaning that we do not share anyone's individual information through these efforts.
Planning networks of the future
One of these new tools is Advanced Network Planning, which helps operators build new networks. Advanced Network Planning launched with a handful of partners earlier this year, and initial results have been promising. Operators have been able to use these tools to create plans in minutes that previously would have taken days, while providing a meaningful reduction in the cost of building new networks.
To bring connectivity to new areas in emerging markets, operators often need to deploy thousands of kilometers of fiber, which takes months and can be very expensive. In developed markets, creating networks for the future requires a high number of network nodes to ensure that the system can handle higher-bandwidth traffic such as video streaming. Advanced Network Planning focuses on making the planning process faster, cheaper, and better designed to meet people's needs. For example, it can help operators decide where to use fiber or alternatives for backhaul connectivity, or where to place cell towers to effectively connect the most people.
This tool allows operators to optimize network design across rural and urban areas by:
Leveraging high-resolution satellite imagery combined with computer vision and machine-learning tools developed by Facebook to identify under-served areas around the world.
Developing algorithms to minimize the cost of expanding network coverage by helping operators do things more quickly and efficiently, such as planning fiber builds while ensuring the network is reliable.
Evaluating the effectiveness of different technologies — such as microwave, fiber, satellite, or millimeter wave — for a given network based on cost and performance constraints.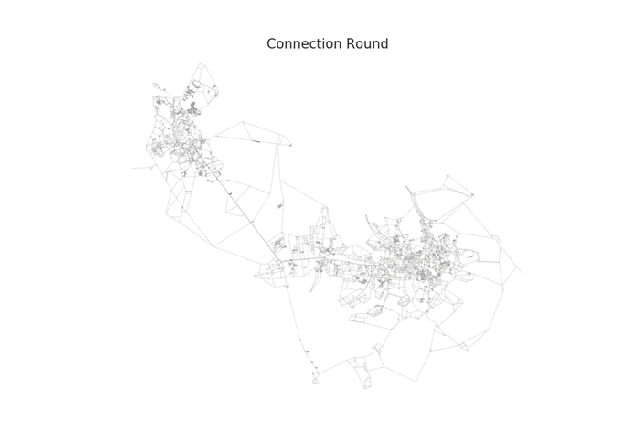 Optimization algorithm iterating to find the cheapest redundant fiber network in an area of >1,000 square km (larger than New York). Runtime less than 2 hours.

Comparison of manual and automated mesh network plans for mmWave using Terragraph technology. The automated network design on the right achieves results comparable to those from an expert analysis in a fraction of the time.
Optimizing the network of today
While planning for the future is a critical component for allowing operators to scale, optimizing their current operation is equally important. With this in mind, Facebook developed Actionable Insights to help connectivity partners improve business, network, and device efficiency. It has two components.
The first, Network Insights, helps partners improve network coverage, speed, and latency for thousands of cell towers and millions of people across the globe. This tool provides network performance maps to help operators better understand and optimize the strength of their existing network in a given area. This helps ensure that operators are alerted to potential issues, such as when many people are experiencing a poor connection on a specific cell tower.
Network Insights is based on information from people who have Location Services enabled for the Facebook mobile app. We look at connection type and network performance (such as download speed or network latency) at different locations and then aggregate and de-identify the information to produce performance maps.
By analyzing network conditions, such as the quality and type of connection, mobile operators can monitor performance, compare network quality to other operators, and identify trends that can help improve a customer's experience on the network. This could include identifying where they need to invest in more capacity or optimizing certain regions during peak times.

Average speeds on Facebook by quality of experience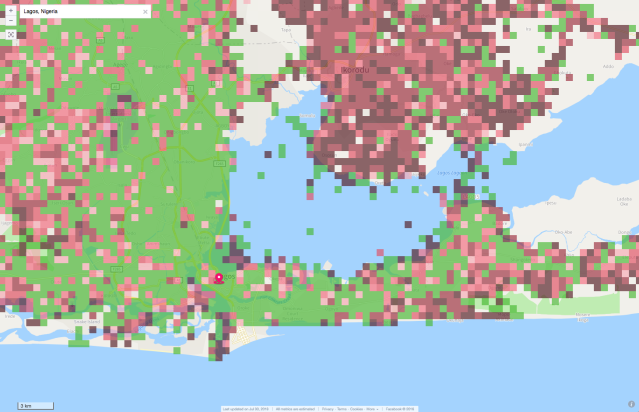 Cellular network congestion detected in Ibeshe (near Lagos, Nigeria). The areas highlighted in red represent areas where network speeds of a given carrier are below the best available network speed
Enabling better business decisions
The second component of Actionable Insights is Market Insights, which helps connectivity providers better understand their customer engagement. The analytics tools in Market Insights can help manufacturers and operators define product and service offerings for a particular audience. Using information from the Facebook app, Market Insights provide aggregated and de-identified metrics, such as market share or consumer device and SIM card switching rates for various segments and across operators. These insights can help partners better serve new and existing customers in high-growth regions, who increasingly choose providers based on network performance and affordability.
Market Insights also helps device makers and operators develop more effective hardware planning strategies, as they have access to more information around what types of devices people are using. For example, a device manufacturer can better understand how quickly and where a new product is being adopted.
Through helping connectivity partners understand shifts in market position and the competitive landscape, these insights help to inform their business and marketing decisions as well as customer acquisition strategies. Partners can use this to inform their ad campaigns, including ads on Facebook.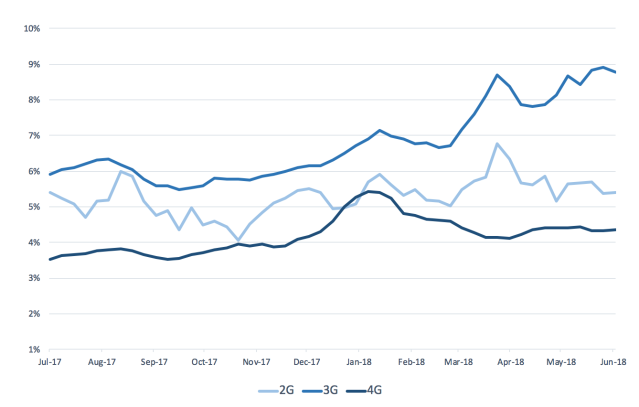 Operator SIM switching monthly rate, per primary network type used by people. Example of a Latin American mobile operator.
We know that expanding global connectivity is a complex challenge that won't be solved by any one company alone. That's why we're working on a portfolio of technologies and tools like connectivity analytics to help our partners plan for future needs, optimize their current networks, and make better business decisions. We're committed to connectivity and encouraged by the progress we've seen so far. We're looking forward to continuing to work with the mobile ecosystem to enable better connectivity for more people around the world.
To learn more about Facebook's Connectivity efforts, visit connectivity.fb.com.