Approximately 4 billion people worldwide are unconnected, including many who live in regions that lack access to a broadband network. At Facebook, we're working to change that.
Connecting these often rural regions with existing, conventional technologies such as optical fiber or microwave links on towers is often expensive and unsustainable. So, as part of our commitment to getting more people online, the Facebook connectivity team is developing new technologies and business models to bring affordable internet to more people, faster.
While pioneering these technologies often comes with its own set of diverse challenges, we believe these new technology building blocks are important investments to advancing global connectivity. Our Aquila program, focused on High Altitude Platform Station (or HAPS) connectivity, is one of those building blocks.
Today we're excited to launch a series of blogs focused on breaking down the range of technological, regulatory, policy, and business elements in the Aquila program that — taken together — create a new way to help connect the world.
For starters, its important to know that HAPS, as defined by the International Telecommunication Union, is "station(s) located on an object at an altitude of 20 to 50 km at a specified, nominal, fixed point relative to the Earth." We've talked previously about the first two test flights of our unmanned solar-powered HAPS aircraft and our work to develop new communication systems, but the Aquila program is also much more than just those two things.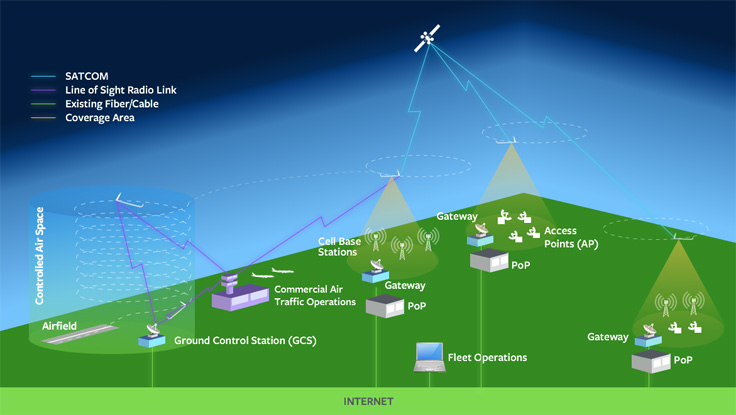 With the Aquila program, we're focused on building a commercially viable HAPS connectivity system architecture comprising the following elements:
Communication payloads that allow for data to be transmitted from the ground to the aircraft and back to the ground again, either to provide connectivity or to command and control the aircraft. They can also connect aircraft to other aircraft, satellites, air traffic control (via line of sight radio link), and/or ground control stations.
Fleets of aircraft that are designed to stay aloft for months at a time while providing connectivity to earth, with associated ground control stations and airfields located in remote areas away from populated areas and commercial air traffic.
Fleet operations that allow the fleet of aircraft to be controlled from one location, with very little interaction needed from flight operators.
Gateways that connect the communication payloads to a fiber Point of Presence (PoP). Typically, these gateways will be within the coverage area of a communication payload and located near a fiber PoP.
Fiber Points of Presence (PoP) that provide internet connectivity to the Gateway. This point is the location where a long-distance carrier provides connections to local telco providers.
Cell base stations that provide connectivity from the communication payload to mobile operators. These stations have hardware and antennas that receive data from the communication payload to provide backhaul connectivity.
Access Points (APs) which includes things like antennas and modems, serving as ground-based fixed links that communicate with the high-altitude platform station and redistribute their connectivity to end users by other wired or wireless means.
Each element of the system architecture, as defined above, has requirements that are driven by affordability and bounded by technology.
First we need to know how regions are populated and how close populated areas are to a fiber PoP. Then we need to determine the system capacity needs and how much people can afford to pay for data. With this information, we can derive system cost, capacity, availability, and coverage area requirements to help create a system that is affordable, achievable, and usable.
These are challenging requirements and the Aquila team is excited to continue working to address these issues, but we're also aware that we don't operate in a vacuum.
No single company can connect the world, and realizing HAPS connectivity requires industry, governments, and connectivity stakeholders working together to foster a successful ecosystem. Current global aviation and spectrum regulations do not support a broadband HAPS connectivity system. The spectrum that we would need to use is already in use by others and we need to ensure that Aquila operations do not conflict with operations that already exist. Moreover, there are no globally accepted design, build, maintenance, and/or operational standards for HAPS flying in the stratosphere because it's never been done before.
These are certainly challenges, and we look forward to using this blog series to dive deeper on some of these topics in the coming months.
In the meantime, we believe that by working with government stakeholders, partnering across the industry, and leveraging Facebook's technology and resources, we can build a HAPS connectivity system to connect more people in more parts of the world.