A couple of weeks ago, Facebook traveled to the 2012 Grace Hopper Celebration of Women in Computing in Baltimore with 36 scholarship recipients. These women came from schools and companies across the country to spend a week meeting and learning from remarkable women making waves in tech.
We look forward to continuing this conference tradition for years to come, so four of our Facebook Grace Hopper scholarship winners have shared their experiences to inspire next year's participants and scholarship winners.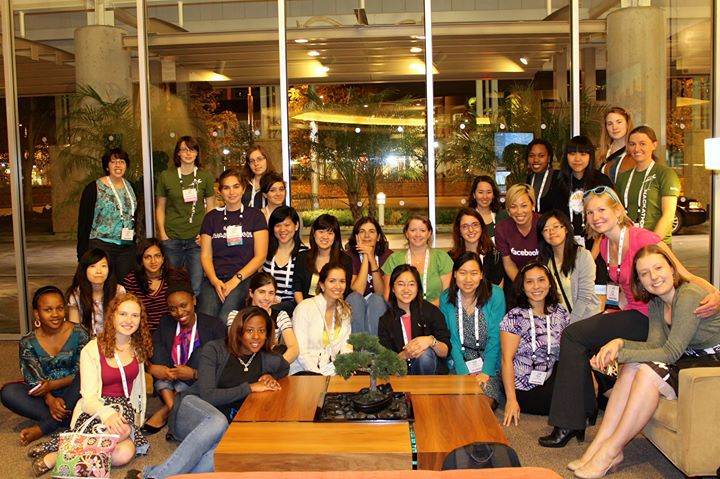 Saba Sehrish, postdoc at Northwestern University
Sunday 9/30/2012
The scholarship kicked off Sunday evening with a treat: "Mamma Mia!" on Broadway. When we were all getting on the bus, I felt like a school kid going on a picnic and I was very excited. All of us were amazed at the phenomenal performance, and we couldn't wait for the activities next day.
Monday 10/1/2012
Monday morning started off with a New York-style breakfast and a tech talk about scaling infrastructure by Goronka Bjedov, a capacity engineer at Facebook. Goronka's talk had flavors of technical aspects of Facebook's platform computing team but also insights about impact.
I got to chat with her further at lunch about career paths and advancing my career. The key point that I got out of our conversation is that if you become too comfortable with where you're working, that means you have excelled in everything you know in this particular role and it's time to move on, learn new skills, and tackle new challenges. We are in a technical field and constant learning is very important for all of us. It's inspiring to know that at Facebook, the employees' capability and intelligence is assumed. So if someone needs help, others won't look down on them.
We also broke into groups for interview mentoring sessions. It was interesting because it was an almost one on one interaction with Facebook engineers. I got to sit in on Moira Burke's session. Moira, a data scientist at Facebook, walked us through the interview process and worked on a few practice questions with us. It was very encouraging to find out that there are jobs out there that require significant amount of research and programming for individuals like me. Whenever I've thought about applying for an internship or job at a major technology company, I've wondered if it's just a coding job or if will I be able to advance my research, give tutorials, or teach few sessions. I was able to get my answers, and it looks like everyone else did too.
In the evening, we had dinner at Facebook's NYC office and got to see their open office space where everyone could easily communicate from their desks and yell at each other as well. I hope they do!
Pooja Jain, former intern at Facebook and current masters candidate at the University of Illinois at Urbana-Champaign
Tuesday 10/2/2012
Post our adventures in New York, we set off on an early morning bus to Baltimore after eating a quick yet filling breakfast in the hotel cafe. We rested and chatted with our newly made geek girlfriends as we made our way through a scenic transition from New York's skyline to the charm city – Baltimore. We arrived around noon and once we checked into our hotel in the heart of the city, the rest of the day was free for us to explore the beautiful harbors or rest and catch up with work. It was a good break that thoroughly prepared us for the next few days of awesomeness at the Grace Hopper Conference!
Wednesday, 10/3/2012
The Grace Hopper Celebration of Women in Computing was held at the Baltimore Convention Center this year from October 3rd to 6th. Entering the center, one of the first things I did was walk towards the registration tables only to be met with a super long line of women in technology! It was one of the longest lines I've ever had to stand in, but time flew by as I got to talk to all these amazing women in my field who had all come together for this conference.
We were free to plan out our schedule and pick which of the many sessions we wanted to attend. These sessions followed various tracks like industry, academics, leadership, and research. One of the most interesting ones I attended that day was about being a thought leader at work. Four women from different spheres of computer science and different stages in their careers shared their thoughts on leadership and how getting noticed in your career takes more than just putting your head down and doing a great job. They emphasized the importance of making yourself known and getting noticed for your accomplishments far and beyond the walls of your workplace. They shared their own experiences, gave valuable advice, and really inspired me as role models who had accomplished so much despite the barriers for women in technology. The day went on with a variety of sessions as I continued to be inspired by women from all walks of life and meeting and making friends with people like me, woman geeks.
Our day ended with a bang as I got to attend Facebook's private mixer on the convention center's terrace overlooking the Baltimore skyline with the other Facebook Grace Hopper scholarship recipients. The attendees included several technical women as well as many Facebook engineers who freely mingled and answered questions about their experiences of working in the industry and at Facebook.
The icing on the cake was meeting Jocelyn Goldfein, director of engineering at Facebook. With women being a rarity in the top ranks of many big companies, it was a delight to be able to meet her in person and listen to her unabashed advice and words of wisdom. As a young woman in tech, I use Facebook as heavily as many other women my age and being able to get an insight into Facebook's culture and the experience of sharing Facebook's mission – to make the world more open and connected – was exhilarating. It reminded me of why I chose to become a Computer Scientist – to use my technical skills to make a difference. Thereafter, we trooped back home happily, excited for more to come in the next few days.
Jessica Lin, former intern at Facebook and current teaching assistant at MIT joining Facebook full time in early 2013
Thursday, 10/4/2012
Before I arrived, I thought Grace Hopper would just be a series of talks to attend. As the days went by, I realized that the most valuable part of the conference was the gathering of all these amazing people in one place. I had the opportunity to meet women in tech beyond Facebook, and it was cool to get to know the people behind some of the other websites that I use. The things I learned were less about computing and more about career direction and life.
On Thursday morning, the whole Facebook Grace Hopper contingent ate breakfast together. At the end of the meal, it was announced that Facebook hit a billion monthly active users! Later that day, during a Q&A that was given by Mike Schroepfer and Jocelyn Goldfein, VP of engineering and director of engineering at Facebook, someone asked, "Why would I, as a woman, choose to work at Facebook, as opposed to another tech company?"
Out in the audience, Goranka immediately raised her arm and waved it, almost jumping out of her seat. Jocelyn motioned for her to come up to the front, and Goranka took the microphone.
The attitude of a company comes from the top-down, Goranka began. The leadership sets the tone of the company. So when you look at a company, you should look at the CEO, CTO, CFO… C"X"O. Are they all men?
I have five or six companies worth of experience, she continued. And it's true — at other places I've had to spend time explaining why other engineers should listen to me, a woman.
But at Facebook, that's never been the case. At Facebook, Sheryl Sandberg is COO, and that is so important. People look up to her, and she demonstrates that women are not only competent, but competent leaders.
"Sure, you can work for a week to prove yourself," Goranka said, "but why should you have to?"
"At Facebook, your competence is assumed."
Friday 10/5/2012
I attended two interesting talks on Friday morning. One was by Ana Radovanovic of Google, who talked about the realm of online advertising. I had never thought about ads much, considering them a necessary evil (and very occasional resource) in my browsing experience. Ana's presentation showed that they are really a fascinating optimization problem with a lot of open research questions.
Second, I heard Hilary Mason, Chief Scientist at bit.ly, present some of the infrastructure that bit.ly built to understand trends on the internet, as well as some of their findings, in the form of elegant, beautiful data visualizations. In fact, her PowerPoint was entirely visual, with hardly any text.
Hilary said she studied algorithms, but realized she was actually fascinated by what she learned about humanity and the world by applying algorithms. So she became a data scientist.
At the end of her talk, an audience member asked her what she looked for in candidates that she interviewed. She said she looks for "curious troublemakers." I liked that term.
Elisa Lou, junior at the University of Waterloo and will be joining Facebook as a summer 2013 intern
Saturday, 10/6/2012
The final day of GHC was an engaging, non-competitive open source session. The morning began with a keynote by Katherine Townsend, a USAID Special Assistant for Innovation & Engagement in the Office of Innovation & Development Alliances. She spoke about enhancements to international development occurring in the past few years, including the military using Twitter while on the job. She described how social media has evolved human interactions in developed countries, including the rising availability of open data such as GPS. This keynote was a great kickoff for the 200 participants in the room to contribute to meaningful humanitarian projects.
There were a total of nine organizations that participants could choose to work with. The organizations had a large variety of projects that involved both technical and non-technical tasks. Participants could scatter their assistance to as many organizations as they wanted. Many of us were able to meaningfully contribute and enjoy ourselves.
Giving back to the community—what a great way to end the Grace Hopper Celebration!