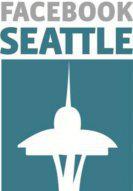 We celebrated Facebook Seattle's one-year anniversary last week with a party on Lake Washington — complete with food, beer, and Facebook-themed cupcakes. It's been an incredible year. Not only have we released some amazing products, such as Video Calling and the redesigned mobile site, but we've also done a lot of work behind the scenes to improve site speed and safety.
Our team hasn't just grown, it's exploded, going from three to 50 people in a single year. Even with the rapid growth, it still feels like a startup — the Seattle crew has really bonded with activities like quarterly family nights, daily lunches, and weekend hikes.
With all this growth, we started running out of room. So we began moving into our new additional space, a new floor in our current building, this week. Right now there are just desks, but soon, we'll fill it with people. Our office expansion represents our commitment to being in Seattle for the long term.
Growing a team like this hasn't been easy. A year ago, three of us moved out here as the landing team charged with the task of building an office reflective of our culture. Of course that includes great Facebook traditions like Hackathons and Game Day. But it also encompasses something deeper: a hacker spirit that is entrepreneurial, innovative, and daring. We conducted a lot of interviews and met a lot of really amazing engineers to find people who embodied this ethos. In the coming year, we hope to find a lot more.
When our CEO, Mark Zuckerberg, came to our office last month, he mentioned that Facebook Seattle is going to be launching many great products in the coming months. It's true — we have a lot of awesome stuff in the works here. To make it happen though, we need to keep hiring the best possible people. We're doubling down here in Seattle to try and bring in the very best engineering talent in the area. We're looking for passionate people to fill a lot of roles, including chat, mobile, ads, security, and more.
To find out more information, check out our Careers page.
Ari is a software engineer and runs Facebook's Seattle office.