Last Friday, I hit my 3-year milestone at Facebook. This got me thinking about all that I've experienced and learned since I started here. Before coming to Facebook, I worked at Google as an engineer for two years. While I learned a number of things there, I began to realize that I wanted to have more autonomy to build and work on larger, higher impact projects than was possible there.
When I decided it was time to leave Google, I wrote down a list of small, promising companies that built social products I liked to use. Facebook was at the top of that list because it was the primary way I communicated with my friends. So I dusted off my resume and submitted it. Three weeks, five difficult interviews, and an acceptance letter later, I was standing in front of the Facebook doors ready to start the first day of what has been the most amazing journey of my professional life.
After joining, I was most surprised to find that Facebook's motto of "Move fast and break things" is real. I'll never forget my second day on the job when Chris Cox, our V.P. of Product, assigned me the task to fix a pretty complex bug in News Feed. I'd never written php in my life, but a few hours later when I got my code working and ready for review, he said "Cool, ship it!" with a big smile on his face. At first I didn't think he was serious, but once it shipped, I realized that I had just pushed out a change on my second day that 25 million people would experience instantly.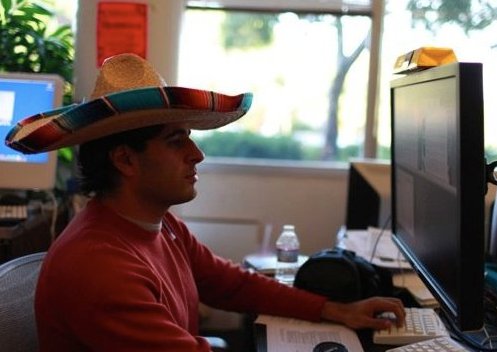 When I look back at my time here, a few core themes come to mind that have made Facebook such an amazing and dynamic place to work.
Autonomy and Responsibility
I immediately was struck by the amount of autonomy everyone has at Facebook. There is a strong focus on giving people as much autonomy as they are comfortable with and holding them responsible for making good use of that freedom. If you have a high bar for hiring, you can assume that you'll be working with the most intelligent and dedicated people who will pick the most important projects to tackle.
Focus on Impact
Since my first day at Facebook, people have asked me, "What's the most high impact thing you want to work on?" It took me a while to really internalize that question because it was not something I'd ever been explicitly asked before. Coming into Facebook, I had an idea of many things I wanted to work on, but when I realized that each engineer is responsible for over a million users, it became clear that any project I chose would have a monumental impact. I decided to focus on Site Integrity and protecting users because that's where I saw myself having the most impact.
Facebook is run by Hackers
A month after joining, I asked another engineer when the next Hackathon would be, and he said "Whenever someone wants to organize it." I went to my desk and emailed the company that I was going to hack the following night and, if anyone else wanted to join me, I would get food and drinks. The following night, we had a jam-packed Hackathon that generated lots of innovative projects and ideas. Zuck came to my desk the next day and told me how awesome the Hackathon had been, and it totally reconfirmed to me that I made the right decision to join Facebook.
Growth and Coaching
Central to any fast-paced, high-tech company is a spirit of innovation. My personal belief is that if you aren't trying new things and failing, you aren't learning. Facebook is the place where I have pushed that boundary the furthest. From learning how to scale out my systems to keep up with user growth to becoming a manager and mentor, every day is a new challenge and a new opportunity to learn. One of the most amazing aspects of Facebook's culture is that, while you are given as much room to grow as you want, there is a pretty deep and natural support structure built into how we all work together. Between the open office layout, peer-to-peer feedback and some of the best engineering mentoring I've ever encountered, I always know that I am never alone when taking risks and making mistakes. While most companies focus on not making mistakes, Facebook embraces mistakes as great learning opportunities.
Three years ago, most of my friends and family had never heard of Facebook and told me it was a huge risk to leave Google. I'm really thankful I didn't listen to any of them. We now have over 500 million active users around the world, and I manage a team of twenty of the most rockstar engineers you could ever hope to work with.
Pedram, an Engineering Manager, is in it for the impact.